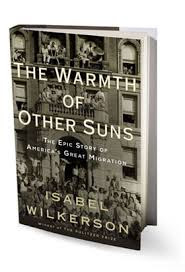 Below are several comments from our book club readers.  I am looking forward to our conference call with Isabel Wilkerson this Sunday, July 13th at 7 pm.  The call in number is (805) 399-1200 and the passcode is 767775#. 
 *****
The Warmth of Other Suns by Isabel Wilkerson is a masterpiece! This book should be required reading for every college student in whatever field of study being pursued.  English and journalism majors would analyze the literary form of the book: narrative history.

The Warmth of the Other Suns is a learning tool for students of political science, sociology, history, economics, psychology and education, to name just a few.

Furthermore, every American should read this book to know the facts that led to the Great Migration and travel along will the three courageous people, as documented by the author, who left unbearable conditions in the Jim Crow South to seek a better quality of life.  I thought I was picking cotton with Ida Mae, working in the orange groves with George and driving through the desert with Robert through the masterful writing of Isabel Wilkerson.

Josephine Coskie, Retired NYC Public School Teacher
***
I first read the book about a year ago when Sarah Bayer, myself and our friend Lowell had a book club for about 4 years when he was in prison as a way to help him stay connected to his community.  I had heard of the book and we all read it and loved it!  I will be on the call on Sunday along with Sarah, Lowell and another friend.
The book means a lot to me. I am a social worker and the  manager of the outpatient addiction & recovery clinic at Dimock Community Health Center in Roxbury, MA.  I keep a copy of the book at work and have recommended to a lot of people. It has impacted my work. I always ask more questions when a client says they moved from the south or their parents did and the book has given me a more historical sense of the person sitting before me.
****
***
"The American History book does not say much about the migration northward by African-Americans, who believed that there would be better economic opportunities from the Jim Crow South. That was not always the case.  There was still racial discrimination in the North, and the paying of less wages for the same job that was done by a White counterpart, and promotional opportunities denied.  My grandmother–on my father's side of the family was one of those family members, who fled the cruelty of the South. She told me that she was an ambulance driver for a hospital on Staten Island (forgot the hospital name) all her life, and on that salary had raised four sons, and pushed them hard to succeed in life, and college, so they would have better economic opportunities than she did.  She was strict in her ways, and how she raised her kids, and me for a time.  My recently deceased aunt from 2011 (last surviving member of my grandmother's generation) told me in her own opinion that there was not much of a difference between North, and South when it came to discrimination, and the harshness of life.  I regret that we did not have more of these discussions.  My aunt's grandchildren, and her nieces, and nephews (my first cousins) do not care about knowing that "past" or their "family lineage."   They do not care about the civil rights movement, and how people lost their lives to give them the economic opportunities that they enjoy today. I praise Isabel Wilkerson's book for shedding light on this history. "
**
***
**
I am so excited about this call!  I read the book last year,  so when I saw  it was on the list for our next reading  I was happy,  then when I heard Isabel Wilkerson was joining our call I was super excited…it's a great and important read.
When I was reading it I mentioned the book to my sister Laureen who is a short story writer and attending graduate school for  literature, she said her class assigned this book amongst others and she  thought the quality of writing was outstanding.  I  have invited my sister  to join the call.  Also I invited several clients and a couple of friends, Independent Pennsylvanians folks –  hopefully they will partake in this golden opportunity.     Jennifer Bullock,
Independent Pennsylvanians